Dad's Army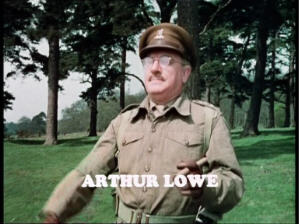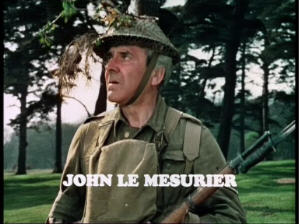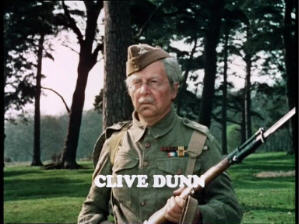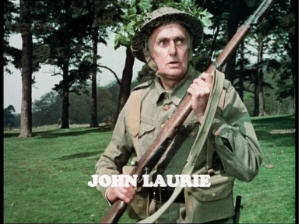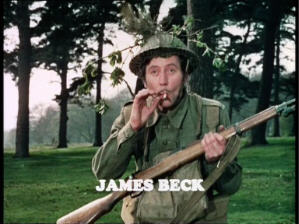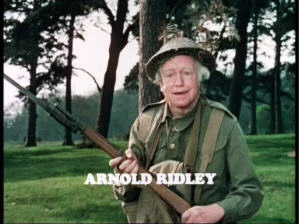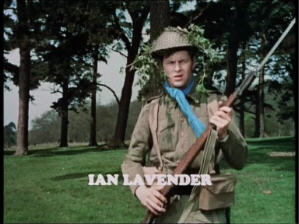 MAIN CAST
Arthur Lowe..............Captain Mainwaring
John Le Mesurier.............Sergeant Wilson
Clive Dunn................Corporal Jones
Ian Lavender.............Private Pike
James Beck.............Private Walker (Series 1 - 5)
John Laurie...........Private Fraser
Arnold Ridley..............Private Godfrey
Bill Pertwee............Chief Warden Hodges
Frank Williams...........Reverend Timothy Farthing
Edward Sinclair...........Mr Yeatman, The Verger
Pamela Cundell...........Mrs Fox
Janet Davies............Mrs Pike
Geoffrey Lumsden..............Captain Colonel Square
Talfryn Thomas...........Private Cheeseman (Series 6)
Eric Longworth...........Town Clerk
---
Series 1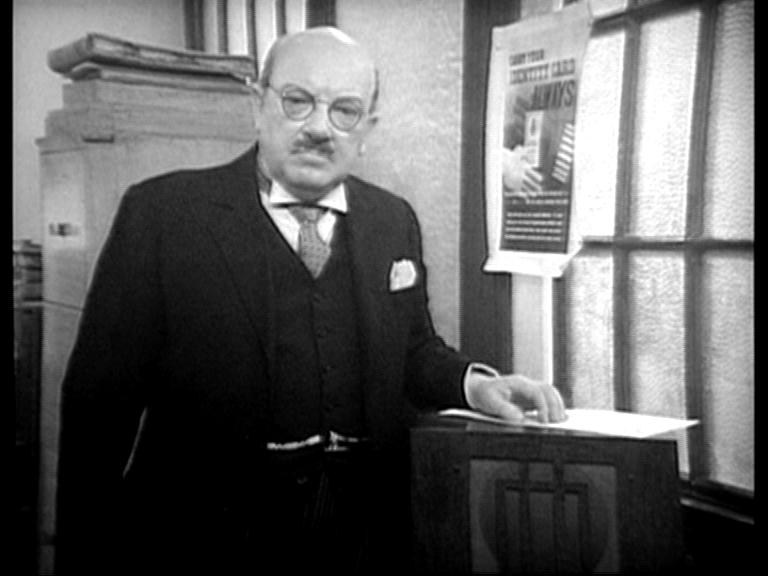 Original Broadcast Date : 31/7 - 11/9/1968
Produced and Directed by David Croft
Episode 1 : "The Man And The Hour"
Anthony Eden announces the formation of the Local Defence Volunteers (L.D.V). Bank manager George Mainwaring makes himself commander of the Invasion Committee with his chief clerk Arthur Wilson his second -in-command. They enrol volunteers at the church hall which ends as Hodges makes his first appearance to get rid of Mainwaring and the men as he has a lecture in 5 minutes. The delivery of uniforms only brings LDV armbands.
Episode 2 : "Museum Piece"
Due to the lack of ammunition (our heroes arsenal comprises a shotgun, 15 carving knives, a number 3 golfing iron and Jones's assegai) the platoon decide to raid the Peabody Museum of Historic Army Weapons. At 18:00 hours Operation Gun Grab begins. First they have to outwit the caretaker who is actually Corporal Jones 88 year old father! They eventually get in by Fraser disguising himself as an ARP warden and plying him with whiskey. They manage to get hold of a chinese rocket gun which ends up going off and the platoon have to take shelter.
Episode 3 : "Command Decision"
Morale is very low due to lack of weapons. Colonel Square visits Mainwaring at the bank and says that he wants to take over the platoon andin doing so will allow them the use of his rifles. Under much duress, Mainwaring hands over command to the colonel, but changes his mind after he discovers plans to turn them into cavalry using circus horses and muskets. Once more under Mainwarings command their gun supplies arrive.
Episode 4 : "Enemy Within The Gates"
The platoon are interrupted during one of Mainwarings lectures by an officer with a suspicious accent. They arrest him and plan to interrogate him until he convinces them he is a Polish captain serving with GHQ. He tells them there is a £10 reward for every Nazi arrested. Jones section captures 2 German pilots who they hold at the church hall. Godfrey lets them escape, but the Polish captain recaptures them. When the prisoners are collected by the military police, they mistake the Polish captain as a Nazi and the platoon end up with £30 reward!
Episode 5 : "The Showing Up Of Corporal Jones"
Major Regan visits to monitor progress on everything from first aid to use of weapons. Jones forgets how to aim a rifle and his glasses steam up when charging a dummy with his bayonet. The fate of Jones in the platoon is decided on his ability to complete an assault course in 15 minutes. The rest of the platoon come up with a plan : CHEAT!
Episode 6 : "Shooting Pains"
Guest Star : Barbara Windsor (Laura La Plaz)
Mainwarings platoon was the first to be formed and is chosen to be guard of honour for the prime ministers visit, but due to bad shooting at the range, the major decides to use Eastgate platoon instead. It is decided by a competition with 3 from each platoon. On a visit to the Hippodrome theatre that evening they see crack shot Laura La Plaz who entertains the audience with her firing skills. Walker comes up with the plan to dress her up as one of the platoon. But when the plan appears to backfire Fraser saves the day by scoring 5 bulls eyes!
SERIES 2 SERIES 3 SERIES 4 SERIES 5 SERIES 6 SERIES 7 SERIES 8 SERIES 9