Dad's Army
Actor Profiles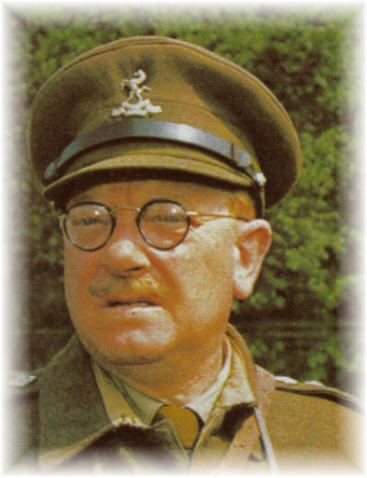 Arthur Lowe (Captain George Mainwaring) 1915 - 1982
Arthur was born in Hayfield in Derbyshire, the only child of Arthur and Mary Annie. Originally he wanted to join the Navy, but due to his poor eyesight couldn't. He joined the army on the eve of World War II. He served in the middle east and helped put on shows for the troops. He made his debut in Manchester in 1946. He appeared in many plays before making more than fifty films. In the 1960's he had made the transition to TV and became an household name in Coronation Street as Leonard Swindley. He also carried on with film, appearing in Lindsay Anderson's This Sporting Life, If and O Lucky Man. He married Joan Cooper in 1948 and they remained together till his death in 1982. They had one son, Stephen born in 1953.
---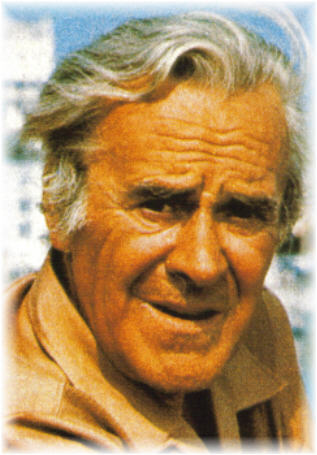 John Le Mesurier (Sgt. Arthur Wilson) 1912 - 1983
John Charles Elton Le Mesurier De Somerys Halliley was born in Bedford, England. He was the son of a solicitor and was educated at Sherborne School, and started studying acting at the age of 20. He reached the rank of Captain whilst serving in the Royal Armoured Corps during World War II. He appeared in many films including The Hound Of The Baskervilles, The Pure Hell Of St.Trinians, The Pink Panther and The Italian Job. His final film was the poorly received Peter Sellers film The Fiendish Plot Of Dr Fu Manchu. On TV he famously voiced "Flour Grader Fred" for Homepride flour, as well as narrating Bod, an animated children's programme for the BBC in 1975. In 1981, he had a small but pivotal role in the Granada series Brideshead Revisited. John married 3 times. The actress June Melville (1939 - 47), comedy actress Hattie Jacques (1949 - 65) with whom he had 2 sons Kim and Robin and finally actress Joan Malin, whom he married in 1965 until his death. His self written death notice in The Times stated that he had "conked out" and that he "missed his family and friends".
---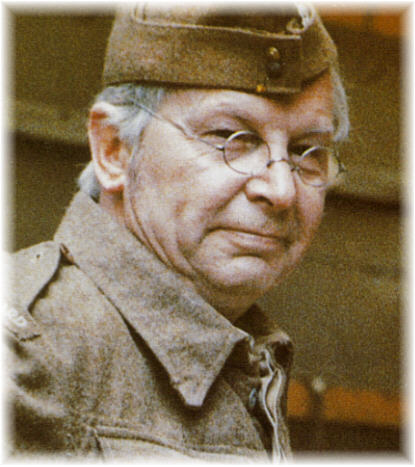 Clive Dunn OBE (Corporal Jack Jones) 1920 - Present
Clive was born in London, and is a cousin of Gretchen Franklin (who played Ethel Skinner in Eastenders). During World War II he spent 4 years in Austrian Prisoner-Of War camps. He married actress Priscilla Morgan in 1959, and has 2 daughters. After mainly appearing in theatre and music hall, in the 1960's he managed to get into TV, playing mainly guest roles alongside people such as Dick Emery and Tony Hancock. He also appeared in Bootsie and Snudge and an episode of The Avengers, before his big break in Dad's Army. He reportedly fell out with Arthur Lowe at one point, due to his strong Socialist views, as Arthur was a staunch Conservative. In 1971 he had a number 1 hit single with Grandad, he also released more singles, but none matched up to the success of Grandad. After Dad's Army finished, he starred in the childrens TV series Grandad from 1979 - 1984. He has now retired and lives in Portugal.
---
John Laurie (Private James Fraser) 1897 - 1980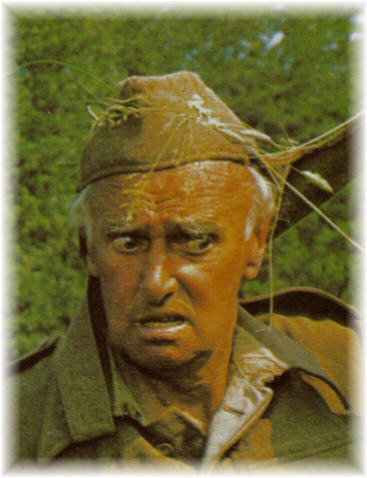 John was born in Dumfries, Scotland and educated at Dumfries Academy. He trained in architecture, but this was interrupted with the break out of World War 1. After the war had finished, he trained to become an actor at the Central School of Speech and Drama in London. Between 1922 and 1939 he mainly played Shakespearean roles including Macbeth and Hamlet at the Old Vic or Stratford On Avon. He appeared in all 4 of Laurence Oliver's Shakespeare films, As You Like It (1936), Henry V (1944), Hamlet (1948) and Richard III (1955). He is the only member of the Dad's Army cast to actually serve in the real home guard during World War II. Some of his other films included 2 Hitchcock films Juno and the Peacock (1930) and The Thirty Nine Steps (1935). John married twice, his first wife having died young. He died from a lung disease on 23rd June 1980.
---
James Beck (Private Joe Walker) 1929 - 1973
Full name is Stanley James Beck and was born in Islington, North London and educated at Popham Road Primary School. He had a hard childhood with his father being frequently unemployed. After a brief period at art college and a stint at National Service, he took up acting. He did various reps including Hornchurch, Ipswich and Scarborough, before he joined York as ASM, then onto leading roles in shows like The Merchant Of Venice, in which he got rave reviews. After moving to London, he concentrated on TV and got roles in Coronation Street (as a Policeman) and The Troubleshooters. In 1968 he was offered the role of Joe Walker in Dad's Army, a role which was intended for Jimmy Perry himself. Thanks to Dad's Army, he was offered more prominent roles on TV including the lead in Romany Jones, also parts in Z-Cars, Softly Softly, A Family At War and Beggar My Neighbour. Tragically James died in 1973, he felt ill whilst opening a fete in aid of dogs for the blind. Within an hour he was rushed to hospital and lived a further 3 weeks. He left a widow, Kay. He was aged only 44. His character was written out of the show, having gone "up the smoke".