You Rang M'Lord?
Series 2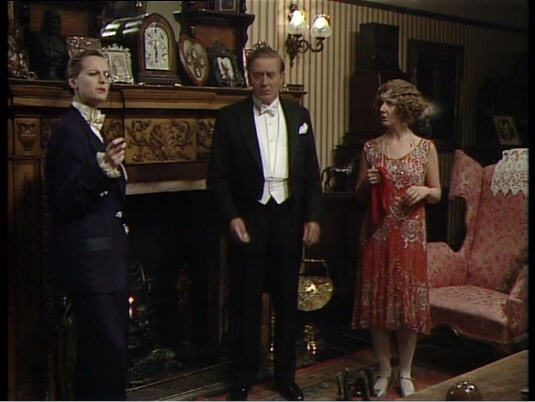 Original Broadcast Date : 11/11 - 23/12/1990
Produced and Directed by David Croft, except episode 5 Directed by Roy Gould and David Croft
Episode 1 : "Labour Or Love"
Teddy gets an ultimatum from his brother Lord Meldrum, either marry Madge Cartwright or go and work in the factory, the Union Jack Rubber company. Teddy thinks his brother is bluffing but ends up realising he means every word! Alf discovers that Lady Lavender is stashing some money under her bed and means to get his hands on it.
Episode 2 : "Trouble At Mill"
The workers at the factory decide to go on strike due to Mr Teddys flirting with the factory girls, James tries to reason with them but to no avail and it is left to Alf to try and sort out. Meanwhile, preperations are in order at the house for a visit by the Prime Minister.
Episode 3 : "Money Talks"
Lady Lavender starts throwing all her money out of the bedroom window to give to an organ grinder, whilst the staff are trying to pick it up. Alf manages to pocket some of it and hides it in one of the vases that Lord Meldrum is about to give away to a charity....
Episode 4 : "The Meldrum Vases"
The vases that Alf hid the money in have gone to charity. He is determined to get his hands on the money again. James and Ivy are equally determined to stop him.
Episode 5 : "The Wounds Of War"
Ivy is over the moon when James decides to take her to the pictures, but when they get there they bump into someone else. Meanwhile Alf covers for Lord Meldrum when he tells Sir Ralph was wounded in the Artillery, but Alf is having problems of his own when Mrs Lipton thinks is divorce is being held up by his wife.
Episode 6 : "Stranger In The Night"
After all the tales James has told about his "respectable" father, he turns up at the Meldrum household on the run from the law, after taking part in a burglary. James is very embarrased that his fabrication has come to light. He needn't worry though, as the household rally round to help him to escape on to a boat, and many thanks to Miss Cissy.
Episode 7 : "Royal Flush"
Mrs Lipton is very upset when she discovers that the King and Queen of Dalmatia will be visiting the Meldrum household, but she won't be doing the catering. Noel Coward is also expected to join the throng, but doesn't seem to be on top form.
Series 1 Series 3 Series 4 Home