You Rang M'Lord?
Series 4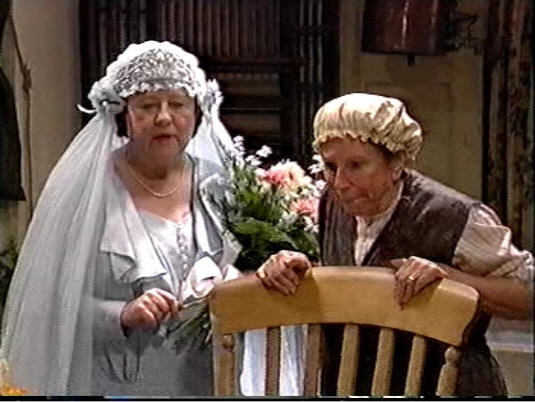 Original Broadcast Date : 20/3 - 24/4/1993
Produced by David Croft, Directed by Roy Gould
Episode 1 : "Yes Sir, That's My Baby"
Teddy is still trying to avoid the amourous Madge Cartwright and Alf comes up with a solution, to confront her with all his illegitimate offspring. Miss Cissy gets the household all helping out at the local soup kitchen.
Episode 2 : "Requiem For A Parrot"
Lady Lavender's constant companion, her parrot Captain, dies and she requires a funeral for him, with bizarre results! Lord Meldrum is still intent on sending Teddy out to the rubber plantation in the Malayan jungle!
Episode 3 : "Come To The Ball"
Mabel finds a purse containing five pounds and decides what to do with it. All the staff are invited to a ball where they are waited on by their employers, which doesn't go down too well with certain people!
Episode 4 : "The Truth Revealed"
Sir Ralph sacks his butler, but to get revenge the butler tells Sir Ralph of his wife's long term affair with Lord Meldrum. Sir Ralph is then out to get Lord Meldrum, and the household have to ensure Lord Meldrum's "safety". Will they succeed?
Episode 5 : "Fall Of The House Of Meldrum"
Lord Meldrum is convinced that Sir Ralph has put a curse on him, due to the fact that the rubber plantation in Malaya has been destroyed by the Bang Go Khan Beetle, and this means that the family face financial ruin! Constable Wilson proposes to Mrs Lipton.
Episode 6 : "Well, There You Are Then!"
Mrs Lipton is preparing for her wedding day. Despite Miss Cissy and Lady Lavender trying to help the financial crisis, things are looking very black for all the household. Plans are under way for jobs elsewhere, and James proves to be a knight in shining armour for Ivy.