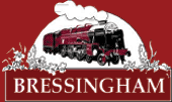 Perry and Croft Day
Bressingham Steam Museum
May 14th 2006 - A Personal Memoir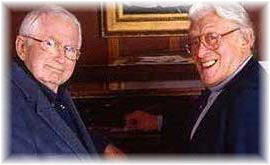 The queue was long when we arrived and it was to get longer as the morning went on. The payment booth had been decked out to look like something out of Dad's Army, what with the sticky taped windows and the red, white and blue flags, just a pity there wasn't more staff on duty at the pay booth. All the Bressingham staff and helpers were dressed in fancy dress to compliment the day. I think I remember seeing people dressed as characters from all their shows, which added to the atmosphere. The weather, though not scorching sun, was kind and thankfully didn't rain!
When we got into the grounds we noticed a few different signing points, for when the stars arrived. Eventually, everyone gathered by the main stage, ready for the main arrivals. It was announced that they were on their way! I can't say what everybody else felt, but by this time I was very excited by the prospect of being able to see some of the people who have brought me such pleasure over the years. They all arrived on an old double decker bus, and were announced one by one as they got off. You were basically left wondering who would be next off, as the final guest list had not been properly announced. We knew Su Pollard wouldn't be attending, due to some last minute change in her plans, unfortunately.
First to come out of the bus was Clive Dunn, who had travelled all the way from his home in Portugal for this special occasion and due to his bad eye-sight had to be helped on and off the platform. Next came Donald Hewlett and Michael Knowles together, which was great and they do seem to be a partnership in both It Ain't Half Hot Mum and You Rang M'Lord? Then we said a big Hi-De-Hi to those former Yellowcoats, The Webb Twins. They were followed by none other than Spike/James himself, Jeffrey Holland. A somewhat sprightly Pamela Cundell then took to the stage, followed by a somewhat frail looking Frank Williams, but somewhat in a rather jubilant mood. After Frank , the men themselves took the stage, David and Jimmy. David looked very laid back in his hat and sunglasses, whilst Jimmy wore a bright Turquoise jacket. I felt quite emotional during Jimmy's speech as he stated the obvious about the aging of the stars themselves and that time waits for no-one. How very true. You get that used to seeing them on DVD or repeats, at first it seems quite disconcerting. The last 2 to come out were everyone's favourite warden Bill Pertwee, who acted the part of grumpy Hodges to begin with and to follow Bill, we had Eric Longworth, who, of course played the Town Clerk in many episodes of Dad's Army.
After the initial introduction, the stars went off to sign autographs in 3 different venues around the site. A Hi-De-Hi tent, the Vicar's office inside the Dad's Army exhibition and a specially erected table outside the Bressingham shop. The queues were long and some people, in my opinion, were far too greedy, wanting each and every DVD cover signing, probably to sell them on ebay and make a fortune in the process. I felt that it wasn't quite fair to people who were just wanting one autograph either, and it must have been a right pain to the stars themselves, but they seemed to stay in good humour all day. I settled for a few words and an autograph from most of them, and I managed to get some photographs along the way. They kept putting announcements out as to who was signing where. It was also announced that Ian Lavender had arrived from Derby, where he had been appearing the previous night in a show there, and later Susie Brann arrived with her children. My partner managed to take my photograph with Ian and Susie (albeit separately), and I felt really elated by this, especially as Susie was quite concerned at the time as to the whereabouts of her children, but when I asked her for a photograph she was more than willing, and I gave her a big thank you!
At the end of it all, the stars got on one of the steam trains and said goodbye. I actually felt rather sad when it was all over, maybe most of the other 3000 people did, but you never know, maybe next year.....
Perry and Croft Day Photo Gallery