It Ain't Half Hot Mum
Actor Profiles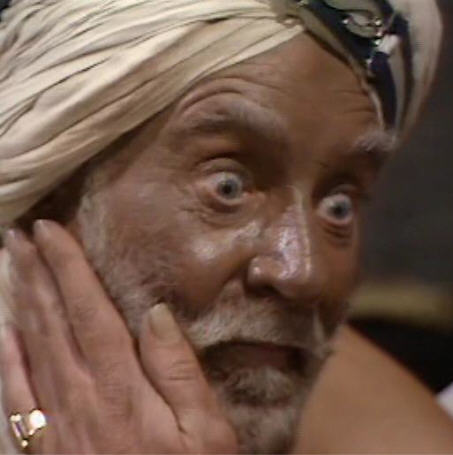 Michael Bates (Bearer Rangi Ram) 1920 - 1978
Michael was actually born in Jhansi, India. He appeared in many films including the controversial A Clockwork Orange directed by Stanley Kubrick. Other films he starred in include Alfred Hitchcock's Frenzy and Battle Of Britain as Warrant Officer Warwick. On radio he appeared in The Navy Lark and not long before his death he made a big impact as Inspector Trusscott in the first West End production of Loot by Joe Orton. Alongside his role in It Ain't Half Hot Mum, he will probably be best remembered for the character of Cyril in BBC's Last Of The Summer Wine. Michael died of cancer in 1978.
---
George Layton (Bombardier "Solly" Solomons) 1943 - Present Day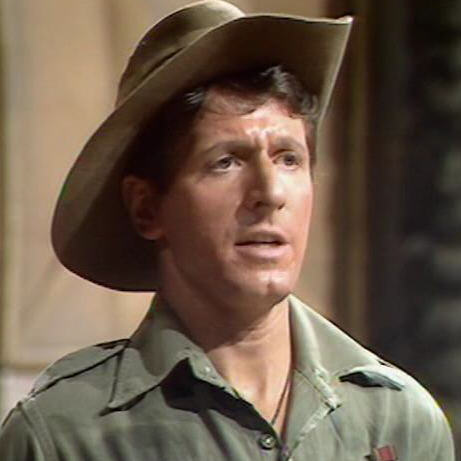 George was born in Bradford, West Yorkshire. Not only is he an actor, but is also a screenwriter, director and author. He studied acting at the Royal Academy of Dramatic Arts. Early in his acting career he made many guest appearances in shows such as The Liver Birds, Z-Cars and The Likely Lads. In 1969 he played a small role in the Doctor Who episode Space Pirates. He later made his debut as Medical student Paul Collier in the series Doctor In The House. He later co-wrote episodes with Jonathan Lynn. By the mid 1970's he had branched out on his own and became a writer for the TV series Robins Nest, in which he also had a guest appearance. After this he created and wrote every episode of the sitcoms Don't Wait Up starring Nigel Havers and Tony Britton and Executive Stress starring Geoffrey Palmer and Penelope Keith. George has written two books, The Swap and other stories and The Fib and other stories. George was the subject of This Is Your Life in 1999. He still makes guest appearances in shows such as Holby City, Doctors and Heartbeat. He is an avid fan of Bradford City Football Club.
---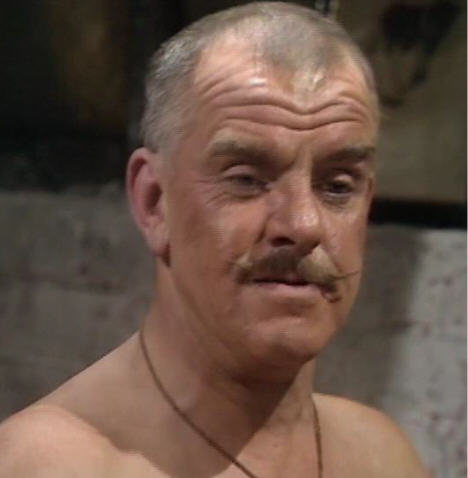 Windsor Davies (Battery Sgt.Major Williams) 1930 - Present Day
Windsor was born to Welsh parents in Canning Town, London returning to his parents hometown Nantymoel after the outbreak of the Second World War in 1939. He has played in various TV shows such as The Onedin Line and Nearest & Dearest. Besides Hot Mum he will probably be best known for his role as Oliver Smallbridge in the ITV sitcom Never The Twain alongside Donald Sinden. Whilst in It Ain't Half Hot Mum he had a number one hit single with his co-star Don Estelle with a comedic version of Whispering Grass. He appeared in a couple of Carry On films, Behind and England. He has done many voice-over parts such as for Cadburys Wispa. He also auditioned for the voice of the speaking clock in 1985, but lost out to another actor. He now mainly concentrates on theatre work.
---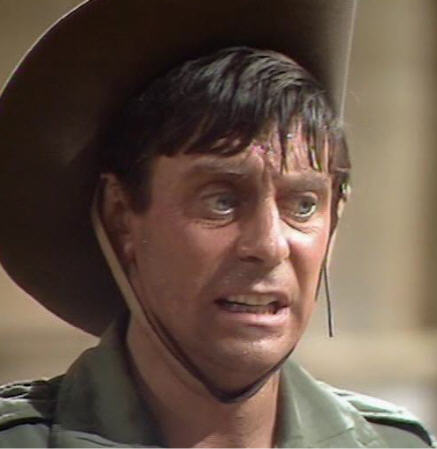 Melvyn Hayes (Bombardier "Gloria" Beaumont) 1935 - Present Day
Melvyn was born on 11th January 1935. His acting career dates back as far as 1950 when he used to perform the Indian Rope Trick for the grand sum of £4 a week. He was in many films, most notably 3 Cliff Richard films, Summer Holiday, Wonderful Life and The Young Ones. Other films of note are Carry On England and Santa Claus - The Movie. His other work for TV includes the title role in The Unloved for the BBC and The Artful Dodger in Oliver Twist. In the 1960's he played over a thousand performances of Spring and Port Wine in London's West End. He has spent a lot of his career on stage including the plays Run For Your Wife, The Dresser and Play It Again Sam. His most recent TV appearances have been in Drop The Dead Donkey, The Thin Blue Line and Countdown. He was the subject of This Is Your Life in 1981. He is a member of the theatrical charity The Grand Order Of The Water Rats. He and his family now live on the Isle Of Wight.
---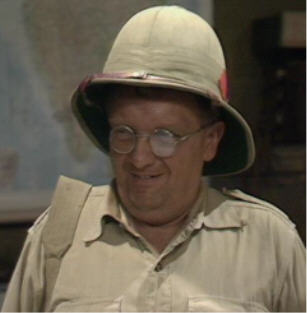 Don Estelle (Gunner "Lofty" Sugden) 1933 - 2003
Don was born Ronald Edwards in Crumpsall, Manchester. To escape the German bombing in the second world war he was evacuated to Darwen in Lancashire. Here he found his voice as a boy soprano at the local Holy Trinity Church. He later joined the Manchester Kentucky Minstrels and performed the Mario Lanza song "Granada" on the radio talent show "What Makes A Star" in 1954. He gained theatre experience with "The Backyard Kids" at the Hulme Hippodrome in Manchester. He then toured the Northern club circuit, where he met Windsor Davies, with whom he toured with for 4 years. In the 60's and early 70's he got offered small cameo roles in such programmes as Coronation Street and Dad's Army. He then got the perfect role as Gunner Sugden in It Ain't Half Hot Mum. The character was nicknamed "Lofty", a pun on the actors height, 4 feet, 9 inches. He had a pwerful tenor voice, which was used to it's full effect in the series. He appeared in the films A Private Function and Santa Claus:The Movie. Other TV parts include The League Of Gentlemen, The Benny Hill Show and The Good Old Days. He spent his final years in Christchurch, New Zealand returning to the UK only weeks before his death in the Rochdale Infirmary. He was buried in his adopted town of Rochdale, along with the over-sized pith helmet he wore in It Ain't Half Hot Mum.
---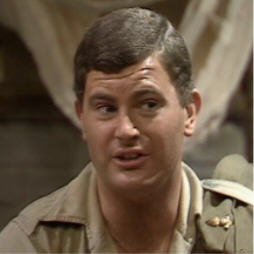 Kenneth MacDonald (Gunner Nobby Clark) 1950 - 2001
Kenneth was born in Manchester, and was the son of wrestler Bill MacDonald, who died when Kenneth was just 13. Ken attended school in Buckinghamshire, where he took part in various school productions. He left school at 18 to help support his mother, Emily. One of the jobs he had was in the Kellogs Cornflake factory. He got a couple of small TV parts in Z Cars and Softly Softly. He met his wife Sheila whilst appearing in panto in Crewe in 1976, she was the costume designer. His most famous role was probably as Mike Fisher, the landlord, in the BBC's Only Fools and Horses, in which he starred until his death in 2001. He suffered a heart attack whilst on holiday in Hawaii. He was only 50 years of age.
---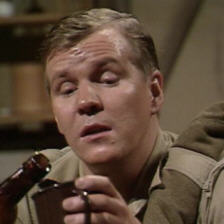 Stuart McGugan (Gunner "Atlas" Mackintosh) 1944 - Present
Stuart was born in Striling in Scotland, and his first major TV job was as a presenter on the BBC's children's programme Play School. He is best known for his roles in It Ain't Half Hot Mum and for the part of Bomba MacAteer in Tutti Frutti. He has also appeared in Perry and Croft's You Rang M'Lord? as the rather loud-mouthed Jock at Lord Meldrum's rubber factory. On TV he has appeared in London Weekends wartime drama Wish Me Luck as Gordon Stewart and as Derek Simpson in Family Affairs. More recently in 2007, he has toured with the stage version of the 1960 film Tunes Of Glory, in which played the part of Jock Sinclair, which was played by Alec Guiness in the film.
---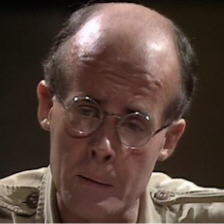 John Clegg (Gunner "Paderewski" Graham)
John's first TV role was in Dixon Of Dock Green in 1961 as DC Greaves. He married actress Mavis Pugh in 1959, who sadly died in 2006. John has also appeared in Perry and Croft's You Rang M'Lord? One of his latest appearances was in the 2003 film Death In Holy Orders as Father John Betterton.
---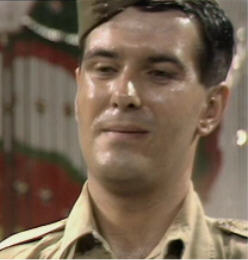 Christopher Mitchell (Gunner Nigel "Parky" Parkins) 1947 - 2001
Christopher was the son of actor Norman Mitchell. He died at the age of 53 from cancer of the liver and other alcohol related complications just a month before his father's death and in the same year as fellow Hot Mum star Kenneth Macdonald.
---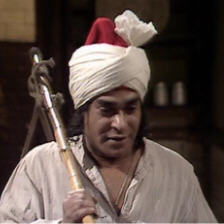 Dino Shaffeek (Char Wallah Muhammed) 1929 - 1984
Dino was born in Dacca, East Bengal, British India. Besides It Ain't Half Hot Mum he was probably best known for his role Ali Nadim in London Weekend's comedy Mind Your Language. His last role was in High Road To China as Satvinder in 1983.