Hi - De - Hi!
Series 8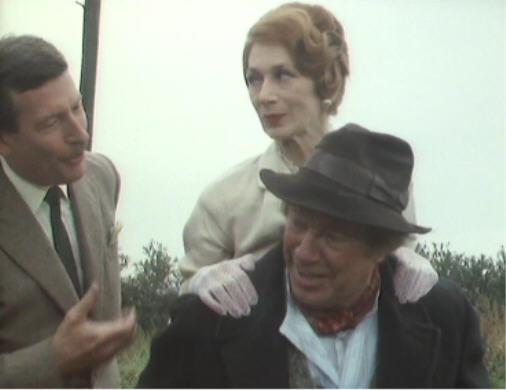 Original Broadcast Date : 8/11 - 27/12/1986
Produced by David Croft, Directed by Robin Carr, "September Song" Produced and Directed by David Croft
Episode 1 : "Pigs Might Fly"
Barry Stuart-Hargreaves makes a shock departure and Yvonne is distraught. She makes herself a recluse in her chalet. Worried that they are one act short on the entertain,ments programme, Gladys decides to send for Yvonne's substitute partner, Julian Dalrymple-Sykes and Yvonne is ready to get on the floor again.
Episode 2 : "The New Broom"
There is a new camp controller, Alec Foster, who has already fired certain members of staff for incompetence. He catches the Entertainments staff off their guard when he arrives and no one feels safe, as Alec Foster certainly doesn't pull any punches. Peggy asks him if he can help to fulfil her dream and become a Yellowcoat, but he tries to use this to make a pass at her. Meanwhile, Joe Maplin installs a new children's entertainer. He is the "tramp" Uncle Sammy that Spike and Ted met down on the beach. But who will be the unlucky person he shares a chalet with....?
Episode 3 : "Orphan Of The Storm"
The staff rally round Peggy, who has been sacked by the new camp controller Alec Foster. At first nothing seems possible to save her job, and then help comes from an unexpected source...
Episode 4 : "God Bless Our Family"
Fed up with Clive's irresponsible behaviour, his entire family descend on Maplin's to try and get him to come back home. Unfortunately, they haven't reckoned on the opposition they will get at Maplin's, or the shock at the difference as to what Clive is used to!
Episode 5 : "Only The Brave"
Organised chaos is the only way to describe the birthday surprise for Yellowcoat April. Ted (who else?) is to blame. He organises a cinema trip to see Bambi. It only ends up being a war film called "A Few Came Back"!
Episode 6 : "September Song" (45 Minute Special)
Ted falls for a young pianist on holiday at Maplin's, Betty Barlow. They plan to marry, but it all ends in tears, thanks mainly to her domineering mother. Peggy gets a taste of the spotlight by playing a lion, and Julian tries to woo Yvonne by taking her to visit his farm, with disastrous results!
SERIES 1 SERIES 2 SERIES 3 & 4 SERIES 5 SERIES 6 SERIES 7 SERIES 9
HI-DE-HI REUNION PAUL O GRADY SHOW HOME