Hi - De - Hi!
Series 3 & 4
Original Broadcast Date : 31/10/1982 - 23/1/1983
Series 3
Produced by David Croft, Episodes 1,3,4 & 6 Directed By John Kilby, Episodes 2 & 5 Directed by David Croft.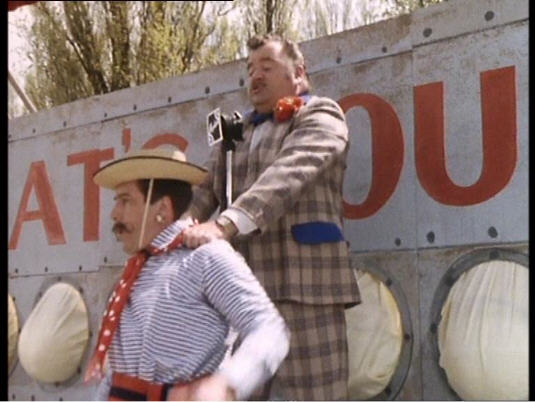 Strange but true. Despite all the confusion regarding these two series, they ARE 2 seperate series, but shown back to back on the original transmission dates, hence them both being on the same page. Hope this dispels any rumours to the contrary!
Series 3
Episode 1 : "Nice People With Nice Manners"
Barry and Yvonne are far from pleased when made to compete in the That's Your Bum competition. They decide to hold a party in their chalet for the more refined and upperclass members of the staff. They make the mistake of getting Peggy to hand out the invites, she mixes them all up. The party turns out like nothing they imagined whatsoever!
Episode 2 : "Carnival Time"
Joe Maplin states that the camp has to take part in the Town Carnival and to put in a float starring all members of the Entertainments Staff. Spike has the impossible job of doing this. He casts Yvonne as a barroom tart and Peggy as a red indian. The fire gets out of control on the back of the float and they end up in the pool to put out the fire!
Episode 3 : "A Matter Of Conscience"
Joe Maplin doesn't like the idea that the Local Council are planning to build an hospital next to the camp, so instructs the staff to make as much noise as possible to put them off. Peggy is told a cock and bull story by Ted to help make the noise, thinking she is in line to become a Yellowcoat. Certain members of the staff don't agree with this idea and choose not to take part.
Episode 4 : "The Pay Off"
Despite the attempts by the staff, the Council are still determined to build the hospital next to the cam,p. This infuriates Joe Maplin and sends a shoebox full of bribe money to Jeff to bribe the four Councillors. But Jeffrey is NOT happy about this.
Episode 5 : "Trouble And Strife"
Ted Bovis is well behind with his maintenance payments to his ex-wife. She turns up at the camp with a Bailiff in tow and presents Ted with a writ. Some of the staff try and help Ted, even Peggy who doesn't have much to begin with, but Ted manages to salvage some money by some of his fiddles. He raises nearly enough, and his ex takes pity on him for being so pathetic, and so he gets away with paying it all off.
Episode 6 : "Stripes"
Joe Maplin makes a secret visit to the camp and decides to make Gladys the Chief Yellowcoat, which doesn't go down well at all with the rest of the staff. Gladys's brother Gareth turns up and Gladys is ashamed of him, esspecially as there is a peeping tom on the camp and she suspects him. She sends him away, only to find she was wrong all along.
Series 4
Produced by David Croft, Directed by John Kilby except Episodes 3 & 5 Directed by David Croft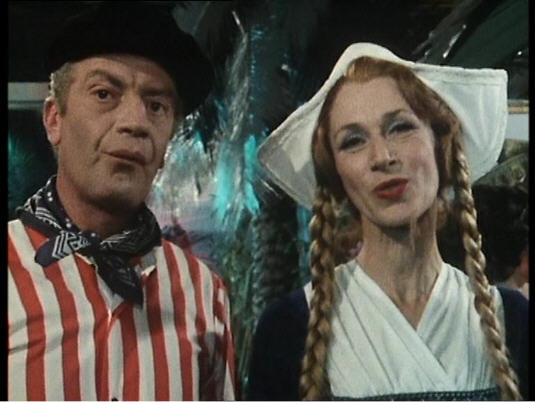 Episode 1 : "Co-Respondents Course"
Jeffrey Fairbothers wife sends her new boyfriend to ask Jeff for a divorce, which Gladys would love, but Jeff remains adamant that he will not co-operate. The boyfriend then decides to try and dig up some dirt on Jeff, making Peggy seek advice from Ted and Spike when she is approached.
Episode 2 : "It's A Blue World"
Ted is given the chance of showing an "artistic" but strictly adult film to the male campers late at night. Spike sees what Ted is up to and doesn't like it, as always the voice of reason. Ted cons the gullible Peggy into getting him the key for the Laughing Cow Milk Bar, where he plans to show the film, in the end he nearly gets arrested with the rest of the staff, who seem to have made their way there for one reason or another.
Episode 3 : "Eruptions" (45 minute Christmas Special)
Joe Maplin decides to install a model volcano in the ballroom. It decides to erupt during Ted's act and Ted is so furious that he decides to lead a team one night to sabotage it. And the team includes Barry and Yvonne!
Episode 4 : "The Society Entertainer"
Spike meets a girl who he wants to impress, but to do that he has to dramatically change his act, against the advice of Ted. Meanwhile Joe Maplin decides a new voice on Radio Maplin wouldn't go amiss, much to the chagrin of Gladys Pugh.
Episode 5 : "Sing You Sinners"
When the local vicar departs, Jeffrey finds himself conducting the Sunday Half Hour, but needless to say makes a right mess of it. Ted then steps in and helps to liven up the proceedings somewhat....
Episode 6 : "Maplin Intercontinental"
It is the time of year for the annual Best Girl Yellowcoat Competition. This years contest will be the most competitive ever owing to the prize which is a job at the new Maplins Holiday Camp in the Bahamas!!! Needless to say that there is plenty of rivalry between Gladys and Sylvia.
Episode 7 : "All Change"
When the camp is fulled to the brim, Jeff is less than delighted to find he has to make way for the new Yellowcoat Supervisor by relocating all the staff. The new supervisor, Joan Wainwright, takes an intense dislike to Gladys and demotes her.
SERIES 1 SERIES 2 SERIES 5 SERIES 6 SERIES 7 SERIES 8 SERIES 9